All things related to the Covid injections are discussed here.
Vaxathon
Who Do You Believe?  Politicians with everything to loose or scientists with nothing to loose?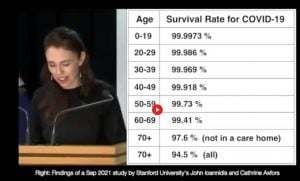 German Scientist Discuss What Is in a Pfizer Vial and What it Can Do in Those Injected
Finally and fully authentic proof.  The Vaccine is Killing People and Is Full of Sharp-Edged Nano-Metals
00:52:45 – Autoimmune Reactions
01:14:00- Introduction to other doctors
01:19:00 – Blood samples of vaccinated (Important)
01:27:00 – Microscopic images of vaccine samples (Very Important)
Letter from Regulatory Consultant
A call to regulatory authorities (Medsafe, TGA) to urgently review mRNA safety data.
COVID-19 VACCINES and CHILDREN: A Scientist's Guide for Parents
Written by Dr.  Byram W. Bridle, PhD, Associate Professor of Viral Immunology who has spent his career developing vaccines