New Zealand Citizens Database
Irish Doctors Speaking Out
Their views on the C-19 injections.
More Harm Than Good?
A more scientific analysis of Pfizer's studies, with the slides.
How The Vaccines Affect the Immune System
Dr Bhakdi explains how the injections lead to widespread auto-immune reactions and reactivation of dormant infections.
Vaccination and Death
Relationship between vaccination and all cause mortality for the 60+ cohort in New Zealand.
Beware of Pfalse Profits Bearing Grifts
Eminent Cardiologist Raises Concerns About the Covid-19 Injections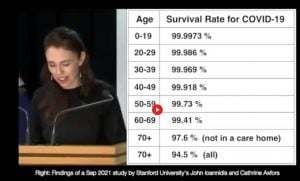 Vaxathon
Who do you believe?
Politicians with everything to lose or scientists with nothing to loose?

What Is in a Pfizer Vial?
German scientists discuss what they found.
00:52:45 – Autoimmune reactions
01:19:00 – Blood samples of vaccinated (important)
01:27:00 – Microscopic images of vaccine samples (very important)
What Does the Injection Do in the Body?
Dr Ryan Cole, Pathologist, explains
Canadian Doctors Discuss Blood Clots & The C-19 Injections
An Easy To Understand Video About C-19 and the Injections
Vaccinologist, Dr Byram Bridle and Colleagues Speak About the C-19 Injection
Real Informed Consent
What you need to know for truly informed consent for the Pfizer C-19 injection. 

Questions to Ask Your Doctor About the C-19 Pfizer Injection
A template letter.
Quiz For Teens and Parents
How much do you know about the Pfizer C-19 injection?
C-19 Injections and Children – A Scientist's Guide for Parents
From the Canadian Covid Care Alliance, by Dr. Byram Bridle.